Non-invasive medical device to aid bladder emptying
We propose a handheld medical device to support bladder emptying in male patients. It is applied externally to the penis and generates a urine flow. It only needs to be applied during urinating and can be stowed into the pocket or a bag after use and offers numerous unique features.
Non-invasive
Minimizes risk of infections
Discreet
Portable
Easy-to-use
Pain-free
Reusable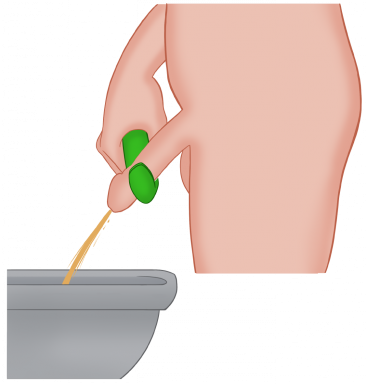 How does it work?
Our device can be used in a normal toilet and only needs to be applied when urinating. It generates a urine flow by applying a cyclic, pain-free compression to the urethra and thus helps to empty the bladder.
Status of the technology
URODEA is conducting clinical research to investigate the safety and efficacy of our medical device. Ongoing clinical investigations include the first in human clinical trial at the Bern University Hospital in Switzerland. In parallel, we are performing research on an artificial model of the lower urinary tract to comprehensively study different treatment parameters.
* Caution: our medical device is not yet approved for sale, thus it is not yet available for patients
Does it also work for women?
Our first product is designed for male patients, but our technology is also applicable for women. We are also working on an easy-to-use and non-invasive solution to help women with urinary retention empty the bladder.